Pacific Inland Express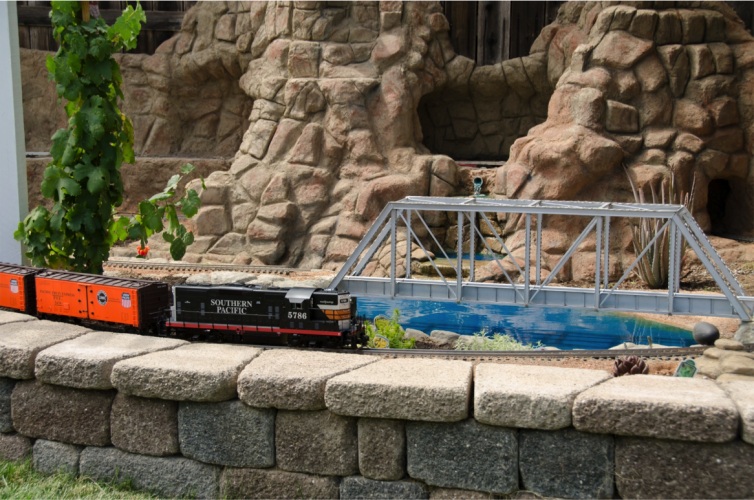 We started planning our railroad in 2010 before we closed escrow on our first house by drawing potential track plans over scaled satellite views of each house we considered. Actual construction started with a retaining wall and initial 150′ loop, completed in 2011. In 2012 we added a water feature, two concrete mountains, and five bridges. In April 2014 we completed our long-planned 500 foot mainline with 20′ diameter curves wrapping around the back of the house to the front yard.
Our theme is agriculture, shown in full-size with our vegetable garden as a prominent part of the landscaping. Additional full-size plantings include grape vines, avocado trees, and other fruit trees. There are also some miniature plantings around the mountains and water feature.
Our era is mostly the transition era with modern steam power and early diesels, mostly Southern Pacific and Union Pacific. We have a unit train of PFE ice reefers since they go so well with our theme, and pull long mixed freights as well. We occasionally run some modern equipment too. Everything is 1:29th scale, mostly USA Trains. Power to the stainless steel track is DCC with QSI Titan sound decoders in the locomotives.