Feather Falls Lumber & Logging Rail Road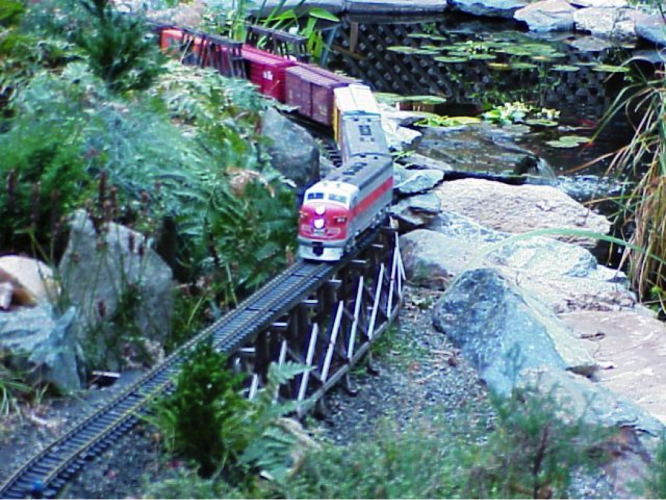 Note: Handicapped accessible with level and sloped hard pack trails, some wide enough for a wheelchair.
We began building our railroad in 1999 after viewing a display from the SVGRS. We are in the mountains above Lake Oroville and have named our line after the now extinct Feather Falls Lumber Company line. We had the idea of building a small layout around a small pond (20 by 8 ft.; 3000 gal.). It has grown a lot larger than we originally planned. We now have about 450 ft. of track with multiple bridges (one 5 ft. long) and trestles that traverse the layout along with a tunnel that goes under the waterfall that supplies water to a large pond (8 by 50 ft.; 6000 gal. and 3 to 4 ft. deep) that we named Lake Oroville. Our goal has been to give people a relaxing experience. We have walking paths around the layout as well as many seating areas to stop and enjoy the gardens and the two large ponds which the railroad travels around and across. We have planted the layout with many dwarf trees and plants that blend well with the tall native pines. We have track and battery powered engines. We have a real Southern Pacific Caboose on the property that is a work in progress. We are located in the mountains above the town of Oroville. It is about a 30 min. drive from town and you will travel around Lake Oroville crossing two bridges. This is a great drive and we hope that you will take the extra time to visit our railroad.